Why should I choose your dental clinic to receive my dental treatment?
We understand that choosing a dental clinic for any patient can be extremely hard, their choice may depend greatly on their own financial position, and the proximity and convenience of the dental practice in mind. Our dentist in Hounslowoffers our new and loyal patients an excellent level of dental care, whilst delivering a caring and comforting customer care approach. We work with patients who wish to receive general routine dentistry every six months, in addition to patients who wish to receive cosmetic dentistry. Our positive dental reputation (which is backed up by our wide array of positive patient testimonials) is supported by our competitive pricing, and positive long-lasting patient relationships, forged with individuals whom we have worked with for several years.
Our dental approach
At our dentist in Hounslow we aim to enforce positive values in everything we do, we offer a warm welcome with our excellent reception team, and offer all of our patients convenient dental appointments. Our experienced dental team each have a special interest within the field of dentistry, and constantly strive to offer our patients up-to-the-minute modern dental treatments. Aside from our approach, we also boast a modern, clean, and relaxing dental clinic, we find this can make a huge difference to many patients who are suffering from a dental phobia, or general dental anxiety.
Financial flexibility

Our dentist in Hounslow understands that patients may wish to avoid a hefty upfront cost, this is why we provide our patients with the choice of both private dentistry, and treatments available under the National Health Service. Although we do offer reduced rates under the NHS, we understand that some patients may wish to receive private dentistry, and pay off their dental treatment with instalments.
The treatments we offer at our dental clinic in Hounslow

At our clinic we offer general dentistry, however we also offer a wide range of treatments including implant dentistry, cosmetic dentistry and facial aesthetics. A few examples of general routine dentistry we offer are hygiene maintenance, emergency dentistry, and tooth restoration.
Do you offer cosmetic dentistry at your dental clinic?

Yes! At our clinic we offer more common types of cosmetic dentistry such as tooth whitening, however we also offer more complex forms such as composite bonding, and Six Month Smiles. Aside from cosmetic procedures, we also offer discreet forms of orthodontics such as clear aligners.
What is Invisalign, and is this treatment right for me?

Invisalign is a subtle form of orthodontics, and works by slowly readjusting the position of the teeth within the mouth. Invisalign could be argued as the largest brand provider of clear aligners which have risen greatly in popularity within recent years. Invisalign may be a recommended form of treatment for patients who suffer from overcrowding, protrusions, or an overbite of the teeth. Despite common misconception, Invisalign is not only suitable for first time patients, but may also be recommended for individuals who have previously received orthodontic work.
How it works

In terms of the treatment process, Invisalign uses customised transparent plastic trays within the mouth. The clear aligners are replaced every few weeks, slowly guiding the teeth to move into their desired position.
Call us to make an appointment
We are accepting new patients and our team are here to help
Call us now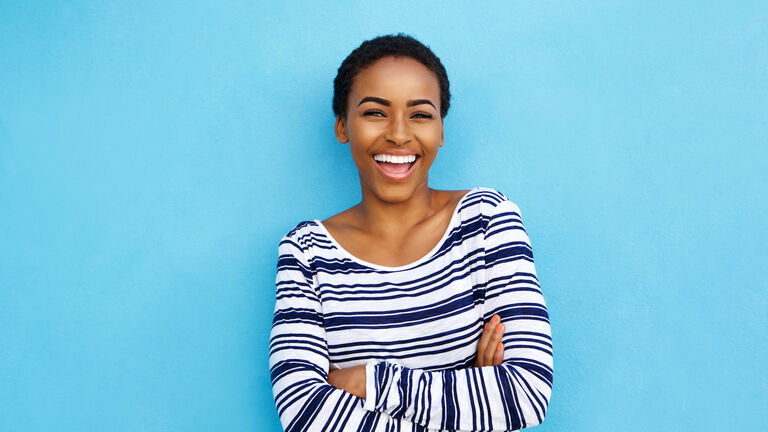 Teeth Whitening and Hygiene offer for £270 until end of April 2021.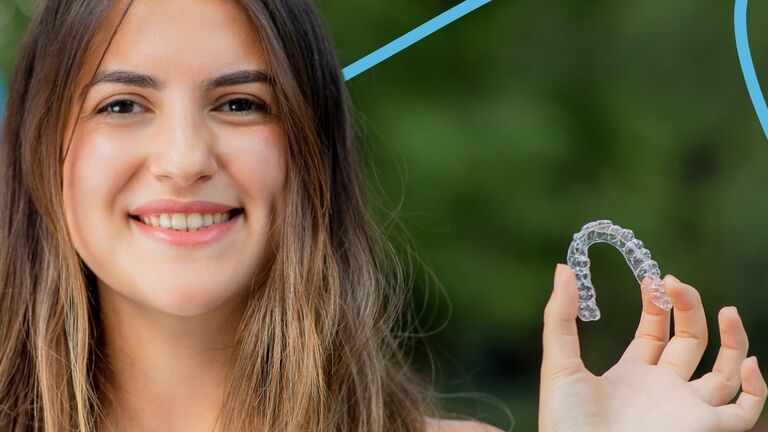 Invisalign FREE teeth whitening
Call us to make an appointment
We are accepting new patients and our team are here to help