What is Invisalign? How Invisalign Treatment Works
Invisalign is a breakthrough orthodontic procedure that straightens teeth and corrects misalignment without any of the discomfort and unattractiveness of traditional metal braces. The prevalence of Invisalign therapy is growing due to its effectiveness in treating mild tooth misalignment. Your dentist can use Invisalign to treat problems including gaps between teeth, moderately misaligned teeth, and packed teeth.
What is Invisalign treatment?
The procedure of wearing a set of transparent, removable aligners to progressively straighten your teeth is known as Invisalign therapy. There are no limitations that come with metal braces.
What are Invisalign clear aligners made of and what do they look like?
Invisalign clear aligners are composed of a transparent material called SmartTrack®, which is a proprietary thermoplastic material designed particularly for Invisalign treatment. FDA-approved Invisalign transparent aligners contain no BPA, BPS, latex, or gluten. They are almost undetectable since they are thin, transparent, and adhere tightly to your teeth.
How will Invisalign treatment straighten my teeth?
Your dentist will design a one-of-a-kind digital treatment plan that depicts the precise motions of your teeth. Your Invisalign clear aligners are designed to deliver the precise amount of force to the right position at the right time, as per your treatment plan. Your Invisalign-trained doctor will be there with you every inch of the process to keep track of your development and make sure your aligners are in the right place.
Am I guaranteed to have straight teeth with Invisalign treatment?
Your Invisalign treatment will start with a consultation with your dentist. Your orthodontist will help you evaluate exactly how Invisalign treatment can transform your smile during your appointment. We can't promise a certain treatment result, but we urge you to discuss your treatment goals with your Invisalign doctor during your appointment.
How Invisalign works
Although Invisalign appears to be a wonderful option, you should always read articles and books, chat to people who have had it done, and, if possible, ask your orthodontist about it. A Dentist would also want to remind customers that several insurance policies cover Invisalign for teens, so talk to your insurance company about your choices.
Visit your dentist
In order to plan out the therapy, your teeth will be scanned, photographed, and X-rayed at the dental office. Based on the intensity of your dental condition, a course of treatment will be designed particularly for you. The treatment takes can run from anywhere from 12 to 18 months.
Making your aligners
Before you begin, your orthodontist will assess your teeth and do a 3-d image scan to ensure that you are a suitable candidate for Invisalign. If you're a perfect fit, your dentist will take impressions of your teeth and send them to Invisalign's dental laboratory. Your dentists and Invisalign will work together to design your personalized clear aligners and course of treatment.
Receive your aligners
Once your therapeutic plan has been established, Invisalign mails your dentist with the aligners. You will arrange an appointment before commencing treatment to get your new aligners and test them. Your orthodontist will also examine important guidelines for wearing a clear aligner at this session. More crucial, wear the alignment twenty-two hours a day just to eat, drink, or clean teeth. During the following 12-18 months, your teeth will change gradually until they are in the correct position.
Wear your aligners
When worn for 20-22 hours daily, Invisalign works best. This implies that throughout day and night you have to wear Invisalign lines save for meals and brushes. As with braces, you may have to adapt to talk to the new aligners for a couple of days. And in most situations, every 6 weeks or so, you will need to see your dentist for your therapy. This enables the dentists to track your progress and, if necessary, change any details. Every 2 weeks, you will also get a new pair of aligners which you can easily replace. You may eat and drink practically everything, and most people would never realise that you are wearing straightening aligners.
Finish your treatment
After your Invisalign treatment has been completed, you may not realize any big change. And besides, when you smiled, you never ceased to see your own teeth. On the other side, it would be a pleasure to remove the attachments and no longer have to use aligners. However, like with other orthodontic treatments, over time your teeth are in danger of returning to their previous position. Consult a doctor whether a preservative is necessary to your treatment and ensure that you wear a preservative to keep your new smile flawless.
What are the benefits of Invisalign?
Invisalign clear aligners are basically imperceptible — individuals may not see you're wearing them. You can eliminate them to eat and drink, to brush and floss, or for exceptional events. There are no metal sections or wires that could aggravate your mouth or break, sending you to your primary care physician for a visit.
Virtually invisible
Another extraordinary advantage of Invisalign is that they are undetectable. There are a few groups of people who think braces look unappealing. With Invisalign, you won't need to stress over anybody seeing the wires or sections when you grin. This is on the grounds that the tray is clear. It is an extraordinary choice for adolescents and grown-ups as they can grin certainly while fixing their teeth.
Comfortable
When wearing Invisalign, the trays may be removed for eating, brushing, and flossing. Pain and scratching on the tongue, face, or gums are lessened with Invisalign.
Range of solutions
There is just one set of teeth available to you. If you don't like how they appear, you can change it with a grin makeover. Your dentists can create a customized treatment plan that addresses all of the aspects of your smile that you wish to improve. They can assist you with whitening your teeth, repairing a chipped tooth, or doing both! To get begin, set an appointment.
See your finished smile
Innovative and pioneering technology gives unusual control of efficient, predictable therapy which enables you to smile with a finite beauty. Adult orthodontic patients, in particular, do not want to be noticed. With transparent alignment trays, Invisalign lets you disguise your dental treatment while showing off your smile Invisalign. They are custom-made to fit your specific needs.
Who is Invisalign treatment for?
Invisalign treatment may be an excellent choice both for adults and adolescents who seek to enhance their smiles using an almost undetectable approach. The aligned technology allows you, from easy to complicated, to solve almost all common teeth straightening and biting problems. And parents may be confident that their children have sufficient clear alignments with them owing to a subtle blue dot outside teenagers.
Teens: Most misalignments in adolescents' teeth may be corrected using Invisalign. Teens love Invisalign braces since they utilize clear aligners to produce a beautiful smile and better oral health. This is especially beneficial during the adolescent years when self-consciousness is so common. Invisalign is an excellent treatment for teens who desire that dazzling smile because of its reduced treatment periods and ease of usage.
Adults: An increasing number of adults are opting for corrective dental repair and taking charge of their own health. Adults who desire a more flexible alignment treatment and a better smile without the need for a very visible metal brace might consider Invisalign.
Patients who require orthodontic treatment for their rear teeth may not be candidates for Invisalign. Simply call the dental office to obtain a professional opinion on whether you or a member of the family is a good candidate for Invisalign treatment.
How often will I change aligners?
Your doctor will tell you a number of times new Invisalign needs to be changed. This varies depending on your treatment plan. . Invisalign clear alignments are recommended by several doctors each week or other week.
How many hours per day should I wear my aligners?
Wear your clear Invisalign lines 20-22 hours a day to provide the greatest possible outcomes, remove them just for food, drinking, brushing, and flossing.
How often will I have appointments with my dentist?
Your dentist will schedule visits for you on a regular basis, generally every 4 to 6 weeks. The purpose of these appointments is to check that your Invisalign treatment is proceeding according to plan.
Your dentist will also tell you how frequently you change to a new aligner will your dentist inform you of. Invisalign clear aligners should be changed every 1 -2 weeks according to several physicians.
How much does Invisalign treatment cost?
In the majority of situations, the cost of Invisalign treatment is similar to brace costs. Depending on how difficult your situation is or how many aligners you require your doctor will calculate the cost of your procedure. Invisalign treatment is much cheaper, ranging from insurance and tax-free dollars to one monthly repayment schedule, with many possibilities.
Some doctors provide flexible and inexpensive monthly payment options that make it possible to make modest payments over time instead of everything at once throughout Invisalign treatment. Physicians can provide LendingPoint loans as well.
You may also use tax-free funds from your FSA or HSA to pay for Invisalign treatment. For additional information on financing alternatives for Invisalign treatment, click here.
Is Invisalign treatment more expensive than braces?
Invisalign therapy is generally comparable to braces in terms of cost. Traditional braces, on the other hand, are typically the more economical alternative if treatment costs are an issue. Braces can cost anything from £2,500 to £8,000.
The cost of Invisalign varies based on how many trays are necessary. The number of trays required is determined by the degree of the dental changes required. Invisalign can range in price from £3,500 to £8,000.
Will my insurance cover Invisalign treatment?
Invisalign treatment is covered by several dental insurance policies in the same manner that braces are. Your insurance may cover a portion of the cost of your Invisalign treatment or a specific cash amount.
How will Invisalign treatment affect my life?
Can anyone tell that I'm wearing the aligners?
Invisalign aligners are nearly undetectable. Some may barely even realize you're wearing them, this makes Invisalign treatment a perfect match for your busy schedule.
Can I take my aligners off whenever I need to?
Yes, you may take off your Invisalign aligners to eat, drink, brush, and floss your teeth. You can remove them for special events such as a wedding, a job interview, or when participating in your favourite sport or hobby. To obtain the optimum benefits, make sure to wear them for 20 to 22 hours every day.
Will my insurance cover Invisalign treatment?
Invisalign treatment is covered by several dental insurance policies in the very same manner that braces are. Your insurance company may cover a portion of the cost of your Invisalign procedure or a specific cash amount.
Are there any restrictions on what I can eat while in treatment?
Zero! Because the Invisalign transparent aligners are detachable, there are no limits on what you may eat. There's a long list of things you can't eat with conventional wires and brackets since they can harm or get trapped in your braces.
Is Invisalign treatment painful?
Although Invisalign therapy moves your teeth by providing moderate, consistent force, some patients experience momentary discomfort when they initially put on a set of new aligners. It's natural to feel "pressure" when wearing your Invisalign clear aligners, and it's a sign that they're functioning and altering your smile. If you have any problems or remain to be uncomfortable, please visit your doctor.
How do I take care of my aligners?
You'll be wearing your Invisalign aligners for 20-22 hours per day, yet one of their incredible advantages is that they are taken out when eating and drinking something besides water. Be that as it may, you will in any case have to clean and disinfect them completely. Here are a couple of tips to keep your invisalingers in great condition:
Wash Aligners After Removal: At the point when you take out your aligners to eat or drink, you need to wash them with cool or tepid water. High-temperature water can twist the plastic and influence the attack of your aligners, so don't utilize it. You should rinse them because Dry saliva, as well as plaque in the aligners, can cause staining and the development of microorganisms.
Soak Aligners regularly: Whenever you take your trays out, keep them in a secure location. They might get misplaced or gather germs if you keep them vulnerable. One approach to monitoring them, once they're out of your mouth, is to soak your aligners. For instance, you can place them in a small container, and add some cleaning solution to it ensuring that your aligners are kept safe.
Clean Your Mouth After Eating: You would prefer not to place clean aligners into a mouth that isn't spotless! Continuously brush, floss, and altogether clean your teeth prior to putting on your aligners, so that remaining food particles will not get caught between the aligners and your teeth.
Brush Trays with Gentle Antibacterial Soap: You need to clean and disinfect your aligners essentially once every day with a delicate antibacterial cleanser, either hand soap or dish cleanser, that is unscented and clear. Make sure it's not coloured since coloured cleansers can change the tint of your aligners. To brush your aligners with a cleanser, utilize a toothbrush with delicate fibres and work in a delicate, round movement. You don't have to scour hard to get a decent spotless. Why not toothpaste? Numerous sorts of toothpaste are excessively rough and can cause scratches and minuscule tears in the aligners that can hold onto microscopic organisms.
What's the best way to clean my aligners?
You should clean your aligners on a daily premise, ordinarily, simultaneously you brush and floss your teeth. This assists with eliminating any developed food, debris, and microorganisms you normally aggregate during the day.
You can likewise clean your Invisalign when they show up noticeably grimy, for example, in the event that you unintentionally drank something that wasn't clear while wearing them or then again in the event that you put them on excessively fast in the wake of eating.
Despite the fact that you change your aligners at regular intervals, they're as yet worth cleaning cautiously. Inability to do as such can make the aligners seem stained (making your teeth look yellow) or can cause terrible breath. Also, you're consistently presenting your teeth to developed microbes.
Do I need to sterilize them after I clean them?
Indeed, you can sterilize your aligners. There are a few alternatives you can pick with regards to this. Another great alternative is to utilize a toothbrush to brush the aligners in cool water with a reasonable, delicate fluid cleanser basically one time each day. You could likewise utilize a balanced combination of white refined vinegar and tepid faucet water to douse your Invisaligners for 15-30 minutes.
Call us to make an appointment
We are accepting new patients and our team are here to help
Call us now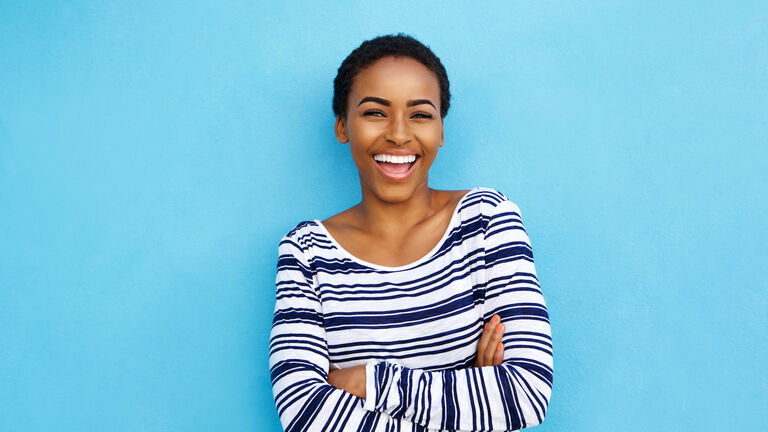 Teeth Whitening and Hygiene offer for £270 until end of April 2021.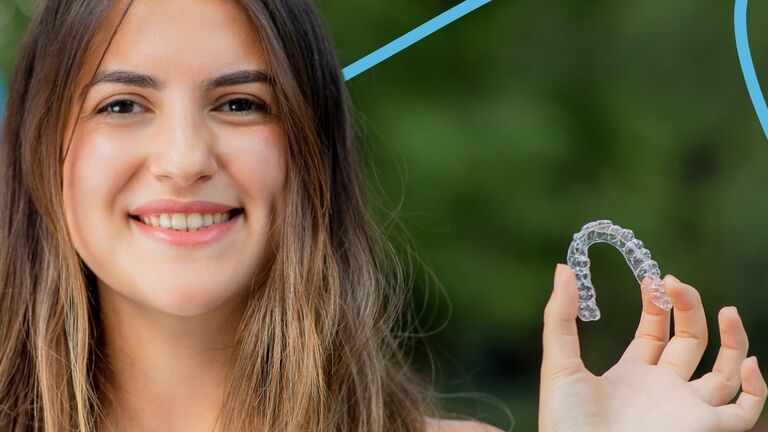 Invisalign FREE teeth whitening
Call us to make an appointment
We are accepting new patients and our team are here to help